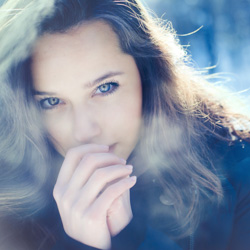 I have a love/hate relationship with the holidays.
I love the multicolored twinkling lights that adorn homes and offices. I adore the aroma of warm cookies and sweet treats baking. I get teary-eyed at the sounds of carolers as I am taken back to pleasant childhood memories of doing the same with my friends. I cherish the tinkling of the Salvation Army bell that reminds us of those less fortunate.
I like the confused look on my little dog's face when I snap a photo of her in reindeer antlers. I love spending a week writing holiday cards, reinforcing my connection to treasured people in my life. I appreciate the Jewish tradition of lighting the Hanukkah Menorah for the Festival of Lights and the heart-based motivation behind the Christmas tradition of God-consciousness being birthed in the form of the man Jesus.
Yes, I love the reverence for spiritual enlightenment, festivities, fun, food and gatherings for the holidays. And I hate the consumerism that is so pervasive this time of year.
It used to be well past Thanksgiving before holiday ads started to appear. Now I am still roaming around in my Halloween vampire costume when the relentless assault begins. The twinkling lights, tinkling bells, and carolers are a mere whisper among the roar of ads for the countless "things" we should wrap up for our loved ones to show that we care.
When did what we buy become more important than standing by?  When did presents become more important than presence? When did "things" become the most important things?
I had to honestly ask myself these questions because there was a time when I had forgotten the reasons for the season and had almost drowned in debt. For too many years, I gave too many presents that were too big for my budget.
From an early age, I felt as if I was molded into being a holiday purchasing machine. I was constantly bombarded by product ads promising to make me and other people happy. I spent much of my life surrounding myself and others with things. So, I got used to whipping out the credit card, without caring how I was going to pay when the bill arrived. Nor did I stop to question if giving and receiving "things" was actually the way to joy or peace. Then one holiday season I had a life-changing "aha" while reading Charles Dickens's classic novel A Christmas Carol.
When I first encountered Ebenezer Scrooge, I thought he was a despicable individual. He was rich and stingy, angry and miserable, seemingly without heart. He cared nothing for anyone except himself. Despising the poor and hungry, he was a cruel boss who forced poor Bob Cratchit, his ever-loyal employee, to work long hours in horrible conditions, paying him almost nothing.
Scrooge was a dastardly man, yet by the end of the tale he had become my hero. His complete transformation, from mean and miserly to kind and generous, left a deep and lasting impression on me.
The old Scrooge showed me that money, things, and power over others are not the source of joy and satisfaction. The enlightened Scrooge taught me that it is the heart connection we make with our fellow human beings and all life that creates joy and contentment in our lives. Scrooge helped me realize that to "keep up with the Joneses" or blindly follow the "gift giving" standard set for me by a global sales force was a shallow and irresponsible endeavor, one that did not align with the real reasons for the season.
Yes, the holidays are a time when we give and receive. And it pays to remember that the most precious gifts are those that cannot be purchased but come from our heart.
This holiday season let's make the conscious decision to make presence more important than presents. Let's place greater value on standing by, rather than what we buy, those we love.  Let's make our relationships the most important thing.
Let's refuse to equate consumerism with love. Let's remember that the true motivation behind the holidays is to extend kindness, patience, peace and generosity to friends, family and our fellow human beings. Let's remember those whose need is greater than our own. These are the real reasons for the season.