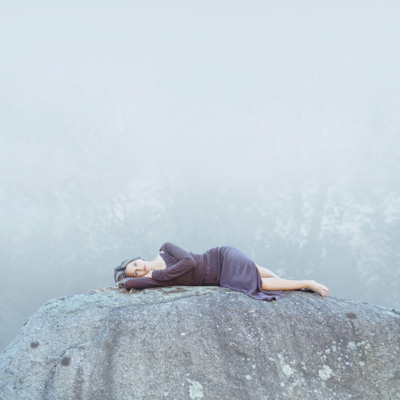 I was in such a funk last week. My consistent mindset of gratitude and enjoying each moment had eluded me. It's like something clicked that got me out of my usually balanced and optimistic self.
All week I immersed myself in the energy of impatience. The things I want to achieve, while in motion, aren't happening fast enough, or so I thought. I felt like because what I think I want hasn't happened yet, then I need to do more, need to work harder, need to do something different.
Living in that energy last week — by concentrating on the idea that "things aren't working," I truly manifested that. Things didn't work. My relationships weren't as flowing and enjoyable as usual. My sleep was interrupted and less rejuvenating. My mind was spinning in different directions.
By the end of the week, the energy it took for me to remain in a heightened state of dissatisfaction had wiped me out! In my state of exhaustion, I finally threw up my hands and surrendered. All I can say is, "Thank goodness." When I surrendered, my spinning mind slowed down. And when it did, my usually balanced and optimistic self reemerged, like going outside to greet the sun after a heavy storm.
I learned a lot from my impatience immersion week. I realized that my impatience took me out of the power of living in the moment. Being impatient suggested that my life is out of balance, and it isn't. Everything is perfect, exactly as-is.
The mindset of allowing things to be okay exactly as-is, and living in the moment keeps me in my body. It keeps me calm and joyous and connected to love. I had so immersed myself in the mindset of impatience, I cut off the love. When I cut off the love, I don't function well at all for it is the love that fuels me.
When I stopped spinning for a moment, I asked myself the following questions. When I did, I started feeling better, almost immediately:
What have I accomplished while being impatient? How did it serve me exactly as-is?
What will I enjoy once I get what I want? Can I feel it now, even for a split second instead of waiting?
What is working really well for me today (or, what's going well today?)
Would I want to replace what is going well in my life right now with that other thing?
If you find yourself living in Funky Town when thinking about yesterday or tomorrow, it means that your own voice has jumped out of your body and the critical voice has taken charge. When you find that this is the case, ask yourself one or two of the above questions and watch your mind spin for a minute. Don't sugarcoat anything or pretend; allow yourself to spin – it is like riding an ocean wave. It won't last, and it will resolve itself! You can then feel yourself coming back home inside yourself.
Keep in mind that your Higher Self is in control and knows what is best for you. Understand that your life is a perfect reflection of your inner world. If something isn't present that you would like to have present, trust and honor that. There are gifts in the moment that you have yet to unwrap.
One of my favorite lyrics by the band U2 comes from their song "It's a Beautiful Day." The line goes, "What you don't have you don't need it now." I invite you to use that phrase as a gentle reminder to yourself whenever you find yourself anxious, worried, or out of the present moment.
Know that everything is okay, right here and right now. If nothing changes, you are okay and will continue to be okay. You can especially feel it when you remain in your good thoughts and acknowledge your sense of well-being. Allow your mindset of gratitude to keep you in the moment.
And finally, to the question of would you want to replace what is going well in your life right now with something that doesn't yet exist physically … feel good now. Enjoy what is working in your life right now, and believe that you don't have to choose … it is possible for you to have it all!