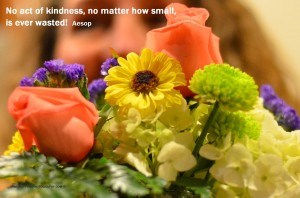 No act of kindness, no matter how small, is ever wasted. –  Aesop
So, how are you doing on showing up for humanity?  Have you taken the time to incorporate the practice of "Soul-cial Living", being mindful of the life in and around you?
Being present with kindness and compassion for all beings on the planet can be a challenge at times.  We earthlings are far from perfect, sometimes any storm, big or small, can through us off course.
On January 9, 2014, I shared 14 ways to become more Soul-cial.  In case you missed it, click here.
Below are 14 additional ways to practice.  I'll share more in my next two features.  You know the saying, practice makes perfect!
Just be kind
Invite a friend out for a meal
Deliver soup and flowers to someone who is not feeling well
Send a client a note or gift thanking them for their service
Put money in a meter that has expired
Say I Love you
Bring treats to the Police and Fire Department
Take a senior citizen for a ride through their old neighborhood
Volunteer at a local animal shelter and bring pet supplies with you
Buy the person behind you a cup of coffee
Let someone in front of you in line
Hug your family and significant other as soon as you them
Give one genuine compliment to everyone you meet
Open doors for strangers, with a smile on your face
Ready, set, GO!