Lessons in courage from an Olympian.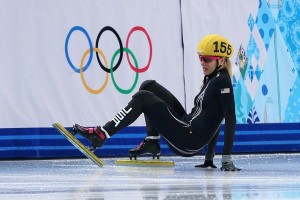 How many times have you found yourself starting again?  Have  you been knocked down by others, by circumstances, or perhaps even by your own choices?  And when you're down do you get back up and keep going or do you wonder why even try?
Let's admit it… it's hard to get back up.  Especially if your life has been a struggle.  That's the case with Olympic Short Track Speed Skater Emily Scott.  She was 7 years old when she won her first roller skating title in China.  The following year her mother went to prison for methamphetamine use.  Emily was raised by her dad and her mother is still in prison.
Despite her family life Emily was described as a determined child.  She switched from roller skating to ice skating dedicating hours to perfecting her abilities while working at night.  As she trained for the Sochi Olympics her funding was cut by 75% yet she persevered and raised over $50,000 to continue her training and send herself and her dad to Russia.
Emily failed to qualify in the 500 meter event and in the 1,500 meter a crash knocked her down and eliminated any hopes she has for a medal.  Our heart breaks for every athlete who tries so hard and still comes up short.  Emily however showed us courage in the face of defeat when she got back up after this crash and continued to skate even though she knew she couldn't win.  She placed 5th.  The other two skaters involved in the accident didn't even try.
We're all going to have our "failures" in life… but as the song goes you have to "You've gotta get up and try try try." Emily Scott did just that and I'm inspired by her courage against all odds.  When you think your life is hard and you want to throw in the towel think about Emily and know that you too can "get up and try try try."  It isn't the end of the world… it's a lesson about your resilience.