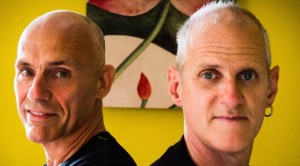 This is the inaugural article of "Themes for Life", a monthly column for Simple Steps, Real Change Magazine. In our column we want to share themes from our lives that we hope will resonate with the overall themes of your life. Life is all about connections – let's connect! This first article coincides with a big mile-stone in our personal lives. The first week of September marks an important event in our journey together. September 3, 2014, we will celebrate 28 years together. Wow! Now that's something.
We have shared a lot of adventures in our time together. Early on we sold all of our possessions and back packed through Europe. On our first spiritual quest we moved to Cripple Creek, CO to work for and with the author-astrologer, Linda Goodman. We owned and operated a magical little retail shop in downtown Cincinnati, OH called Lefthanded Moon. For twelve years we ran a manufacturing company that was named for all things beautiful – Vertu. A few years ago we moved to Albuquerque, NM to attend a unique Massage School. Currently we find our call to service as Licensed Massage Therapists, Personal Trainers and Yoga Teachers. We've been together through it all – side by side, one picking up the pace when the other was tired or experiencing doubt or fear.   Today, as in the past 28 years, we own only one cell phone; we carry only one wallet and own only one car! Our friends love to tease us about this calling it "THE phone" or "THE wallet".   How can we do this, you may ask? Well, we are together 24/7.  That's right! We are literally now, and have been together almost every moment of every day.
We began our relationship as good friends, and as it evolved into a loving partnership, we realized that we really like being together.   We knew in those early days in Cripple Creek Colorado, a remote mountain town of 450 people, we wanted to spend as much time as possible together. At each stage in our relationship we asked the Universe to present us with opportunities to allow us to work and travel together. Wish granted. Early on we worked as bartenders and servers in the same restaurant – we had the same shifts; traveling Europe we were side-by-side from Athens to London; working in Colorado we would sit across from each other at Linda's kitchen table; in our retail shop, it was always just the two of us; at the manufacturing company, our desks were right next to each other's and in school for massage we studied and practiced as a team.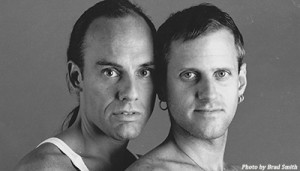 This type of relationship is not for everyone. And even with all our togetherness, the most important component in our relationship is allowing each other to grow and develop as an individual. With a full sense of individuation, we come together to build and nurture the partnership.   We are together physically, emotionally and spiritually most of the time. But we still need and crave "me time".   There is a relationship each of us has with ourself that needs as much nourishing and attention as any outside relationship in our life – maybe more!
Early in our relationship, when we were developing our personal spiritual practices, we discussed the possibility of reincarnation. It was then we decided to start our meditation practice so we could find each other faster the next time around. This may sound a little childlike. That's OK. We work to keep a sense of childlike qualities in our relationship, like being open, honest and trusting.  Our practices have helped us! They help us to see, the deeper we love ourselves and the more we acknowledge our unique spark of creation and feed that spark, the more we find we are alive, happy and whole. Our journey together led us to a deeper understanding of Self Love. Without this Self-Love, our relationships dissolve into a co-dependency that leaves our Souls hungry for something deeper. The hunger is for a connection with Self first and foremost. Self-Love is a learned behavior. We need to foster and nurture it throughout our lives. We believe it is one of our greatest quests in life.
We've learned many things about life and living over the past three decades. One of the many things we learned from Linda Goodman was about numerology (the study of the power and the spiritual vibration of numbers, as presented by Chaldean-Hebrew Kabala). We celebrate our anniversary on the 3rd. In numerology that means our anniversary and our relationship, vibrates to the number 3. Three is described as representing idealism, higher education, foreign travel and religion. Three is the number of optimism, movement, expansion – and the Holy Trinity of the Body, Mind and Spirit.   On first read about the number three in 1989, we hoped this would come to pass. One of the many gifts of maturity is to have the opportunity to look back. As we ponder the last twenty-eight years, we realize these words…Idealism, Movement, Expansion and the Holy Trinity of Body, Mind and Spirit really do describe our relationship – it captures the essence of our lives together – seeking truth and freedom at every turn.
Our individual journey and quest for Self-Love enabled us to create our relationship of idealism, movement and expansion. Through our practices we know the companionship we hold with our Self, is what leads us to truth and opportunities for self-growth and understanding. So enter again the number three. The trilogy we are experiencing is Steve – Rob and then SteveRob. Whether or not there is a significant "other" in your life, you always have the opportunity to romance the Self and Love Your Life.
If there is no outward three in your life, create your own inner trilogy. In numerology, the number one represents creativity, protection, benevolence. ONE is the number of original action, the initiating bases of all other numbers. There cannot be a 2 or 3 without the 1.
How do you romance your Self?
Take some time each morning to be with you. Do this in meditation, yoga or journaling.
Look in the mirror each day and tell yourself, "I love you". If in the beginning, you find this declaration of love difficult, start by winking or smiling at yourself.
Eat food that is nutritious, drink lots of water, take walks, move your body. Make the effort to quiet the ego voice so you can hear the Me voice.
Create your own trinity of Body, Mind and Spirit.
We have much gratitude for the longevity of our relationship and all the opportunities for growth it has afforded us. We also have gratitude for our individual journey and our romance with our SELF.
The love most of us seek outwardly is actually a buried treasure in our own heart. Dig for gold friends. You are richer than you know right now in this moment.  Love Your Life!