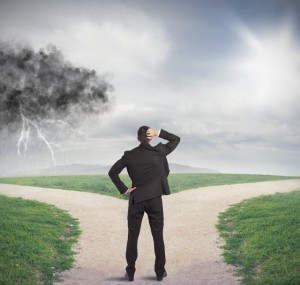 There are times in life when you don't have a choice.  My husband died.  I don't have a choice but to live without him.  Perhaps you find yourself divorced when you thought you'd always be together or your company chose to downsize and you were suddenly out of work.  There are just times in life when regardless of what we do we find ourselves in a place we never wanted or even thought we'd ever be… even if we saw it coming.
Jack & I had been on his cancer journey for the last 4 years but it was only the last couple months that we realized he was at the end of his life.  It's easy… and natural to wish this was all a bad dream but instead it is my journey.  There are times it is incredibly hard and other times when it seems surreal but my bottom line is one of Jack's favorite phrases, "It is what it is."
If you are finding yourself in a place that you hate, regret or just don't want to be what you do now or next is totally up to you.  In your heart you know you don't want to stay in a place of misery yet sometimes you'll find yourself there.
You're going to mourn your loss and that's ok.  I find that a good hard cry lets out all the emotions that need to flow.  You're going to have times where you ask yourself what you could have done differently.  I call these the "If only's."  If only we had or hadn't done something maybe this would never have happened.  You're going to get angry.  You're going to think "why me" even if you never say that out loud.  You're just going to be sad.  And it's ok to feel all these things and more.  This is not the time to berate yourself for how you feel… that only makes you feel worse and that's not what you want.
When however you realize you want a happier life from here on out it's time to let it sink in that you do have choices, now.  I have the choice to celebrate 36 years of marriage to the love of my life.  I have the choice to say "yes" to friends invitations and to enjoy their company.  I have the choice to make decisions about what I want for my life.  We can be grateful for all of the wonderful times we've had in life and for having choices moving forward.
No, we don't have to like the ending… but if we give ourselves the chance to appreciate our new beginning we can move ourselves into a place of hope and happiness… one step at a time.  You deserve to be happy and it's your choice to move in that direction.  Embrace it… because you can!
With love, Cheryl