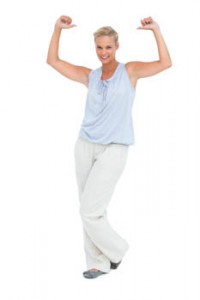 In brand development, I always talk about the "two C's"- clarity and consistency. Clarity refers to your ability to know who you are. If you don't know yourself, you can't share well with anyone.
Once we do know who we are as individuals, only then can we put ourselves out there so the world can know us, too. As such, I have lots of respect for everyone that musters up the courage to do a deep-dive inward and go through a self-awareness process to find their clarity.
Personally, when I stopped practicing securities law after fourteen successful years, it was tough wrapping my mind around who I really was. It took me a long, long time to have clarity that I wasn't only a lawyer, but a woman on a mission to be of service to others using my natural talents around branding. I went through some serious soul-searching to get there-and I'm happy that I did.
The next "C" is consistency. Once you are clear on "who" you are, now how are you going to consistently share this message with others? Keep in mind the ability of those around you to "get" your consistent message. In a world that is over-texted, over-tweeted and over-caffeinated, it takes way more than one interaction for us to register on anyone's radar. This applies to whether you are looking for a job or a date.
Consistency is very important because it is the key to others remembering and recalling us, the way we want them to do so. Consistently sharing ourselves is the area where most of us tend to stumble.
So how do we go about showing up in our world consistently?
The answer is very simple and comes from one of my favorite teachings, A Course In Miracles (ACIM). The key to being consistent is being honest. As stated in ACIM, Honesty does not apply only to what you say. The term actually means consistency. There is nothing you say that contradicts what you think or do; no thought opposes any other thought; no act belies your word; and no word lacks agreement with another. So, in ACIM, honesty is not what we think it would be. It is not just about behavior or words. It refers to the consistency of what we do or say– with what we think.
I think the key here is to be consistently honest with myself first. That means I have to take a good, hard look at myself honestly – at the good AND bad habits, acknowledge it all, and be willing to consistently give up the bad habits.
Have you ever been in a situation where you've actually had to "keep straight" what version of a story you told people because things starting to get confusing?   I know I have. It had to do with the fact that I wasn't being honest about the situation with myself in my mind. The result was I had trouble consistently sharing a message about it to others.
When I'm not being consistent with how I want others to know me (and my brand), I get frustrated with myself. I know it's about changing my thoughts to ring true to who I really am and how I want to be seen and heard by others. I feel very disappointed in myself that I'm not being honest enough with myself to show up in a way I want others to know me. I work very hard to not take it out on others at that point. After all, it's not their problem – it's mine.
What does this mean for you? Stop and think for yourself:
How often do you over-think something in your life to the point of stress and strain and resistance? Does it leave you feeling honest with yourself?
How often are you really consistently honest with yourself and willing to look and acknowledge the good and the bad habits you have? Stay self-aware and start with one easier instance.
What if you were honest with yourself – had all your thoughts be consistent and your actions just followed naturally? You could then be "straight" with people and relax knowing you are showing up as the consistent and clear brand that you are deep down.
Seem simple but not easy? I guess it really is as the saying goes– honesty is the best policy. I've learned over my life that it's the path of least resistance all around. Give it a try. I know you can do it. I'm your biggest fan.