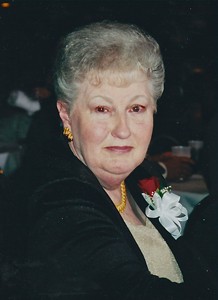 I'm not sure if it's because I'm at a certain point in my life and it's just the way the Universe works or if it's just a coincidence but I feel that I am surrounded by many who are going through the process of losing a parent, a sibling or a spouse. In the past few months, I have passed on my condolences to many, by quoting a man who I only know via email, "Their absence has now become their presence."   The first time I read this, I was so moved because it totally hit home for me. My parents pass away 10 years ago and yet, there are still many moments in every day where I find myself spending time with them.
Ten years ago this month, my mom (Mama-Jo) went into the hospital for a surgery to repair an Abdominal Aortic Aneurism – a very lengthy and ominous procedure where the possible outcome was less than in her favor. But she and my Dad made the decision to move ahead with the surgery given that the Aneurism could have burst any time, in its own time, resulting in sure death. So with bravery in her eyes and a Knowing in her Heart that everything was going to work out for the best, she set out on this incredible journey.
After a nine hour procedure she was moved to Intensive Care where she spent four months moving towards recovery. In May of that year she was moved to a Rehabilitation Facility – she was on her way home. But early one morning in late May, she became just too tired to keep trying and left this earthly plane to begin anew.
Two days afterwards, my Dad presented my Siblings and I a letter which Mama-Jo had penned in early January of 2005 :
My Dear Children and Grand-children,

            If you are reading this – I did not survive my surgery. This is not the way I wanted it but God has seen fit to call me home at this time. While I am leaving dear ones who love me, I am going to other dear ones who have gone on before me.

            Kathy, Steve and Mark – I love the three of you so very much. I was not the perfect mother but I never wanted anything but the very best for each of you. It is hard to lose a parent, someone you love, I know how it hurts not – but time will heal your pain and there will be only wonderful memories of all the great times we have had together.

            I love your families, Tom, Eileen and Rob, the Ones you have chosen to spend your lives with, and I love your children so much – Adrienne, Ashley, Stephanie and Alex – you are all so dear to me. It would have been wonderful to see you all marry and start your families and to see Alex play Major League Ball someday. My wish is that you will all stay close as a family, especially you, Kathy, Steve and Mark – family is so important, please don't break the bond.

            I know that you are all hurting right now. I know you all love me and will grieve and miss me for some time and that's the way it should be, but time will heal the pain and sorrow and God will help you – lean on Him. He will be there for you if you let Him. He loves you all.

            I know your father is going through a really bad time – he has been so good to me, he has really been my rock. Please keep in touch with him and help him through his pain – all of you must help each other.

            You have been wonderful children. When I think of the pain other kids cause their parents, I thank God – how lucky we were – but if it had been otherwise, I would still love you and would never have turned my back on any of you.

            I may have a few personal things that each of you may like to have – I can think of a few. I have talked with your dad about these things – he knows my wishes and when he is ready to part with them he will see to it you can have what you would like.

            Dear Kathy, I love you so much. You have been a loving and caring daughter – but most of all you have been a great mother. I am so proud of you – you are so caring and unselfish. I know it was not always easy for you but you raise two beautiful daughters and they love you dearly. I pray for yours and Tom's health and happiness and many more years together.

            Steve – I love you so very much. You have always been my wanderer – you still are. Thank God you have always come back home. I'm proud of your honesty and kindness, always willing to help out, always there when you were needed. A wonderful boy who grew into a fine man. I wish you and Rob a great future – good health and happiness.

            Mark – I love you so very much, I know you know that. You were always my little man and you have grown into a wonderful, kind and fine man. You are such a blessing, such a good father. Your children are very lucky. Much happiness for you and Eileen.

God bless you all, I am so very proud of all of you.

You are all very much like your father. I may have given you a sense of right and wrong and caring, but your father gave you his strength and perseverance and I am very happy about that.

This has been very hard to write – my last Good-bye. God bless you all and keep you in his loving care. Love one another, until we are together again – and I am sure we will be – I am forever.

                        Your Loving,

                                    Mother
 She never met Carson, Dylan, Brook or Bryce, but they will know her, through our stories, pictures and the multitude of joyful memories – YES, her absence has become her presence!
The longer I live, the more I understand Mama-Jo's words. Memories are sacred! (See "A Day At Home".) We can hold everyone we have ever met close to hearts by simply bringing to mind a memory of that person. Through our pictures and stories we can manifest them back to life – and, while they are around, we can laugh and cry with them, and we can lean on them and ask for help, inspiration and guidance.
I believe that as long as there is one person still on this planet who remembers me after I have passed, I am still alive, for their memories of me keep me so.
Peace and much Love,
Steve