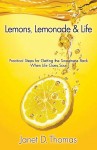 A book review by Cheryl Maloney
Lemons, Lemonade & Life. Practical Steps for Getting the Sweetness Back When Life Goes Sour by Janet D. Thomas (133 pages)
When you feel like your life has been turned upside down or you're backsliding, the best thing you can hope for is something – just a little something – that makes it all seem okay. After all … you're not in a place you want to be nor did you aspire to be knocked down in life.
Lemons, Lemonade & Life is that nugget, a voice of simplicity and hope to refresh your heart and soul. Written by a woman who has experienced the worst that life has to offer, Janet D. Thomas encourages you to gently face your fears and your emotions. In doing so she helps you unveil your own strength to rise above whatever pain you're experiencing.
As I read this book I found myself saying "yes" again and again. Yes to acknowledging life's lemons (what brings you down), yes to neutralizing their effect (exposing them to the light puts them in perspective) and yes to allowing yourself to move beyond them (making lemonade from your lemons).
Within this book are the tools you need to take responsibility for your happiness. You'll discover that dispensing with life's lemons is solely within your power and your ability. In no time at all you'll realize that what was dragging you down provides the ingredients that will lift you up … higher than you might have even believed possible.
Lemons, Lemonade & Life is a sweet treat that will have you celebrating all that this life has to offer. Drink it up!