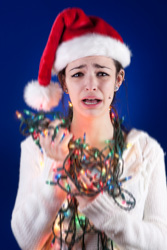 Are you hearing "It's the Most Wonderful Time of the Year" going through your head and thinking about the holidays? (Those store carols have a way of taking over your brain!)  My brain thinks "It's the most STRESSFUL time of the year" when I realize we have just finished with Halloween, and it is only the first of November. While this can be a fun and fulfilling time, it can also be a time of great challenge. Stress is higher during the holiday season than during any other time of the year.
We (especially women) often feel the most pressure to plan, shop, cook, decorate, and coordinate seasonal rituals, gifts, mailings and parties. We try to do too much for too many people in too little time. The holidays may also remind us of losses of loved ones, friends, homes, marriages, health and jobs that stir sad feelings. No wonder some of us start the season aglow with anticipatory joy, only to end up weeks later feeling awful. Exhaustion, depression, sleeplessness, poor appetite, overeating, illness and irritability are all signs of stress. When do we know how to stop? Yikes!!!
Stress doesn't have to be part of your holidays. Taking simple positive actions now to plan the upcoming season will reduce pressures and increase your enjoyment of what can be a lovely time of year. What's more, you can arm yourself with quick practices to remove stress when you're in the midst of the most hectic days. Is there a better way to live through the holidays so that you plug brightly into the "fun and fulfilling" part and lessen the "stressful" part? You bet there is! Here are ten ways I reduce my holiday stress while humming along in bliss!!!
TEN WAYS TO REDUCE HOLIDAY STRESS
1. Get enough sleep. You may wonder how this fits especially when you have a long list of things to do for the holidays. However, this truly is a simple step to a stress-free holiday. Lack of sleep leads to fatigue, which in turn reduces your ability to cope with the holiday demands.
2. Find time to exercise, even if it's only for a few minutes. Exercise helps to increase your energy level and reduce stress.
3. Nourish yourself. In other words, take time to eat properly. In the rush to accomplish all the things planned for the holidays, you may tend to skip meals in order to get more done. You need fuel to continue on with holiday cheer.
4. Plan ahead so that you are prepared for what's coming up. The last thing you need is unscheduled interruptions to your day. If something unplanned comes up that can wait until later, do not be ashamed to politely refuse or reschedule.
5. Set and stick to a holiday budget for things that are on your lists to do and buy. It's easy to overspend over the holidays which can lead to stress. Once you set your budget, your decision making will be easy and less stressful when it comes time to make your holiday purchases.
6. Shop early to avoid the holiday crowd. Try shopping over the Internet and skip the hassle of crowded shopping malls, parking and the frustration of standing in line.
7. Prioritize what you want to accomplish over the holidays. Stick with the most important first, and you'll get those things done that are most important to you.
8. Simplify your life. If you can make things easier for yourself, do so. It saves you from stress, and it works. A lot of things don't have to be elaborate, especially with decorations and food preparation.
9. Reduce your expectations. High expectations usually equate to higher probability of stress when things don't work out. Don't try to do too many things or expect too much from others; take the holiday time to relax. Find little self soothers to pamper yourself throughout your day.
10. Plan to give service, and think of someone's needs other than your own. This charitable spirit will help you be more appreciative of what you already have and remember what the holiday is really about. Having compassion for others softens our Spirit and lends its way to awakening your heart within.
Expectations are the biggest stress: those that others have placed on us and those we impose on ourselves. Our schedules fill up, and our pocketbooks become empty. Expectations of how the holidays should be keep us from enjoying a time of simpler, more meaningful joys. There is such a simple solution to the holiday stress blues, just say "no "and give yourself the gift of compassion. Let someone else do a project, let the bakery do the cookies, have someone wrap your gifts and have a party when decorating the tree, the more the merrier. Plan now and kick back and enjoy some egg nog!